Panzer Vor! with GIRLS und PANZER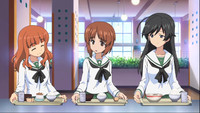 Written by lugiamania
GIRLS und PANZER
is, in a word, cute. There's definitely no getting around that fact, with more cute girls than you can shake a tank at.
And tanks are what the series is all about. I'll admit; at first, I was highly skeptical about this show, which is about a group of high school girls living in a world where the art of operating tanks is considered an important part of a young woman's upbringing. While it does have many of the typical moe characteristics—cute girls everywhere, not a guy in sight, -- the tank battles are what make this series stand out from the crowd. As absurd as the concept seems, par t of the reason it works is because the show acts like
it's totally normal for girls to drive tanks and shoot at each other with live artillery,
just like it's any other type of extracurricular activity.
I saw this on my daily Crunchyroll e-mails. I think this is gonna be good, just assuming though. I haven't watched it. Hey, guys morning! ^.^