The Amazing World Of Gumball.
Like, Oh My God, adorable little Gumball and Darwin are just the cutest so, is the little sister. They go on weird crazy fun-tastic journey's at school and at home. The neighborhood is practically a walking junk lane with talking flowers and trees. I gotta admit I sorta admire Gumball's urge to know a secret and he annoys to death till you tell him. It brings back memories.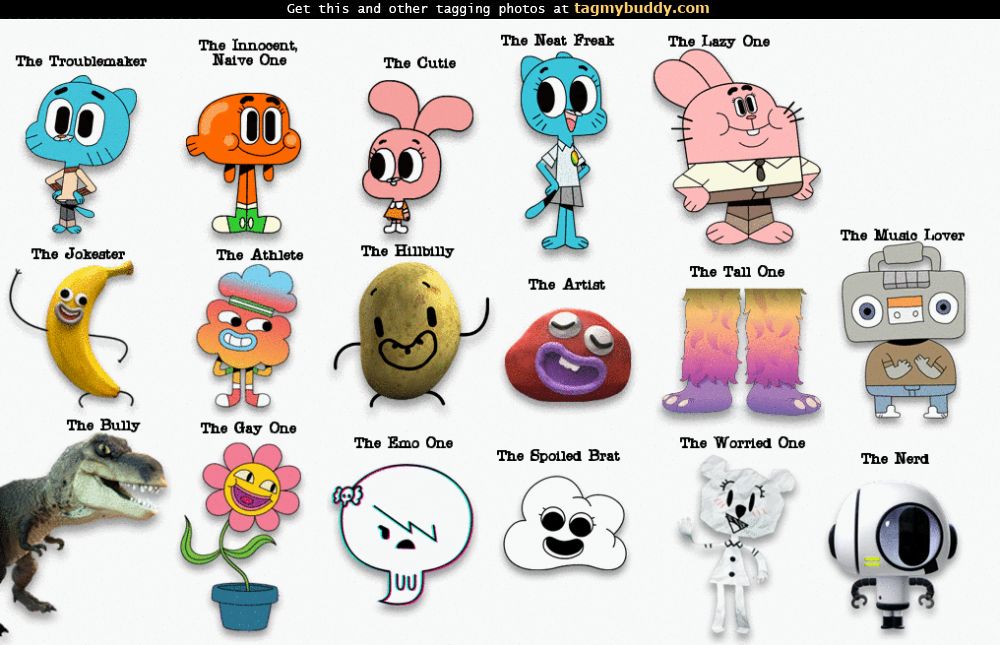 My episode of all is
"The Kiss",
when Granny JoJo comes to visit and then she literally kissed Gumball on the lips and Gumball which traumatizes him. He couldn't stop thinking of it nor even forget the feel of it. And, that's when adorable Darwin came in and made some sketchy yet wild ideas to help Gumball forget. As, for his sister, Anais comes in and she tries to help Granny JoJo with her luggage and has a difficult time doing so.
Meanwhile, it's been days since, Granny JoJo came home
AND SHE'S STILL WATCHING T.V.!
Can you believe that. And, Anais is still trying to carry it up to her room. Gumball on the other hand, is suffering the consequences that Darwin made him do to forget the kiss. Like, going underneath the booger toe or something, it was slimmy and totally nasty.
Finally, after grueling remedies, Gumball had to experience he finally, forgot about the kiss. Anais, also, managed to get Granny JoJo's luggage up to her room. after several days of trying. Finally, you think it's a happy ending, guess again. Granny JoJo is leaving now! after anais worked hard to get her luggage up to her room; she was so pissed she threw like, literally threw Granny JoJo's luggage out the door. Expression seen up there of Anais Angry at Granny JoJo. And, when she left she gave Gumball of course, a kiss and so much for a happy ending because he became traumatized again. (sighs)
But, it doesn't end here also, my other favorite episode is
"The Secret",
Wherein w
hen Gumball discovers that Darwin is hiding a terrible secret that is about him, he vows to discover what it is, however it takes.
Even Anais knows the secret but, in the end they told him that the secret was that
"Remember when you made me that sandwich, I lied it didn't taste good".
Of course, Gumball fell for it but, the real secret was.....
Now, I know better than to leave my door open when I sing and dance in my room. :)